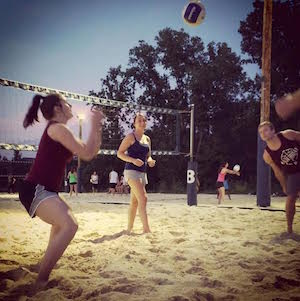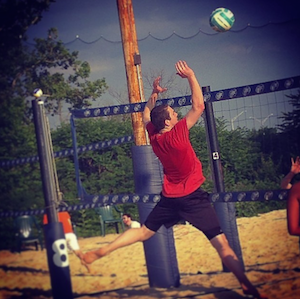 Want to play? Get in touch!
2019 Schedule 
ALL SUMMER SESSIONS - DONE
DOME SESSION I - TBD (likely Mid-Nov.)(reg. TBD)

2020 Schedule
DOME, SESSION 2 (12 weeks) - Beg. wk. of 1/6/20 (reg. begins mid-October 2019)
SUMMER SESSION 1: begins 4/20/20 (Reg. Mid., January)
SUMMER SESSION 2: TBD (likely 6/15/20)
SUMMER SESSION 3: TBD (likely 8/10/20)
FALL DOME SESSION: TBD (likely 10/19/20)
*League registration will open on the dates above.
Check out this page for info on our volleyball league sign-ups (mini-bowling leagues too!)
Email
volleyball@woodlandsbackyard.com
Phone
614-940-5003 (prefer txt)
Our Leagues Enjoy:
8 Week Seasons Including Playoffs
Heated dome in Winter
Best sand in the City
Hourly leagues - play at the SAME time every week!
Indoor and Outdoor bars
Extensive Specials 
Connect with us:

WELCOME

Welcome to our league management page! Our transition to the leagueapps.com platform has now entered its 6th year.  Use the website to view schedules, standings,  change your team name, register, etc

In the meantime... Volleyball info is below!
***We are adding a seasonal dome that will allow us to have leagues year-round.  Open (November 2020)

VOLLEYBALL
Session Start Dates (all Summer sessions, 8 weeks)

2019 Schedule
SESSION 1 - DONE
SESSION 2 - DONE
SESSION 3 - DONE
DOME SEASON 2019 - TBA, will be a short season before Christmas, registration TBD
2020 Schedule
DOME SESSION 2 - Begins Week of 1/6/20, registration in October 2019
SUMMER - TBD, registration for Summer Session 1 begins mid-January 2020

Questions? Email us at volleyball@woodlandsbackyard.com or text 614-940-5003

More Info
Our fees are generally $150 - $350/session (summer, depending on day/time), Winter TBD
3 eight-week summer sessions, starting as listed above (winter leagues TBD)
Hourly leagues you play the same time every week
Added 5:15/10:15 leagues on Monday, Tuesday, Wednesday, Thursday (reduced rates)
Friday leagues also reduced rates
All leagues are co-ed 6's (3 male maximum on court)
Recreational/Competitive leagues available
(select during registration)
Rally scoring to 21
3 sets each match
Heated Dome in Winter


QUESTIONS? - Email us at volleyball@woodlandsbackyard.com